Established and Still Evolving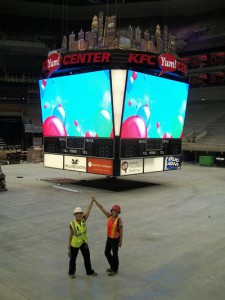 Aztec Flooring, Inc. sits on the western edge of Louisville's Central Park. It would be easy to overlook the modest building, but choices made over the years by owner Patricia Davidson have made sure the business and sports realms do not overlook their work.
Started in 1969 as a small carpet and floor-covering installer by owner Patricia Davidson's brother-in-law, the company has evolved over the years. Davidson and her husband, Fred Davidson, bought the business in 1985. Pat took over on her own in 1992 and began taking the operation in a new expanded direction that included the 1998 addition of a sports division.
Fred Davidson returned to the business in 1999 as a commercial sales and project manager, and today Aztec Flooring is a busy operation with high-profile projects for clients such as: Norton Healthcare Inc., the University of Louisville, Trinity High School, Morehead State University and Mid-Continent University in Mayfield, Ky.
Enjoy what you're doing, and take pride in your work. It seems simple, but keeping it in mind makes a big difference in the quality of your work.
Pat Davidson, Owner
One of the company's highest profile jobs to date is the installation and graphic design of the practice court at the KFC Yum! Center, Louisville's multipurpose arena, which opened in October of 2010. Additionally the company did the flooring work in the arena's luxury suites. "We have been fortunate to experience the kind of growth we have. It has come through a lot of hard work and the experience of skilled people who have been with me for a long time."
Text adapted from a Louisville Business First article by Brent Adams. For the full article click here.
Aztec Flooring, Inc.
Commercial and sports flooring sales and installation
Owner: Patricia Davidson
Member of:
Floor Covering Installation Contractors Assn. (FCICA)
Certified by:
Floor Covering Installation Board (FCIB) International Certified Flooring Installers (CFI) Carpet and Rug Institute (CRI)

Minority Status
Aztec Flooring, Inc., is 100% woman owned. We are a certified WBE (Woman Business Enterprise). Certificates provided upon request.